Shenandoah National Park was the first National Park we visited on our bus adventures, and it did not disappoint. From the moment we drove onto Skyline Drive to the moment we stood at the peak of a mountain overlooking the valley, we loved it all. We took in more of the valley as we rafted the Shenandoah River. Coming from the southwestern deserts, the beauty of the lush green mountains and valleys below blew us away. Join us on our adventures in Shenandoah.
Shenandoah National Park
Skyline Drive
Shenandoah National Park has one main road going through north and south, running 105 miles along the crest of the Blue Ridge Mountains. Along Skyline Drive are about 75 overlooks where you can pull over and get out of the car to enjoy the views. Our first afternoon in the park, we drove about ⅓ of the north end of the park, stopping at multiple overlooks.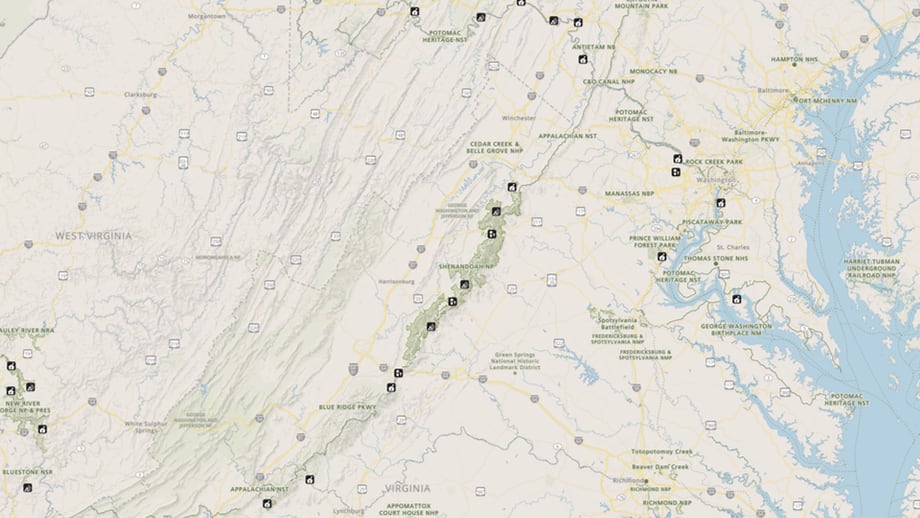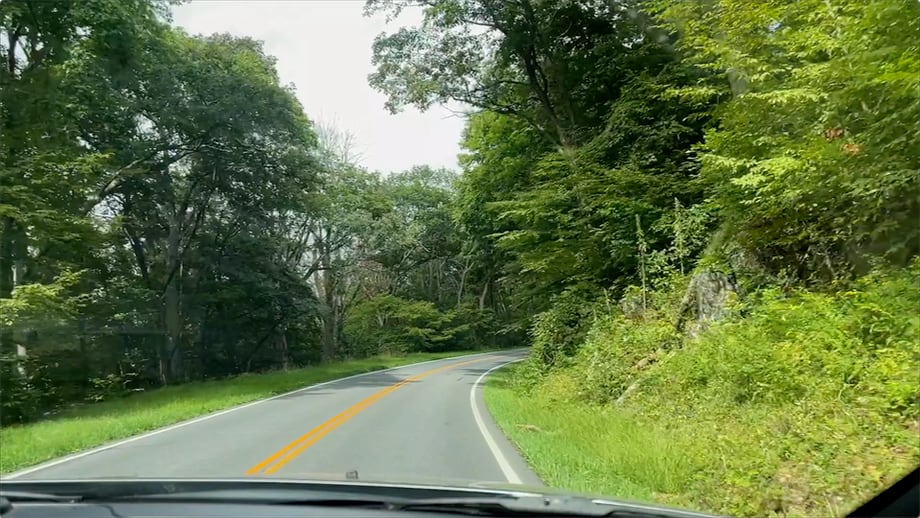 Our first step out of the car to look over the tree-covered mountains to the valley below is now a picture ingrained in my memory. It was so different from our beautiful desert views. Although we had already seen and done so much in our nearly two months on the road, this was our first real "being fully out in nature" kind of moment. Most of the first few weeks of adventures had been battlefields, museums, and cities. With teary eyes, I looked out at Juan and the kids and thought, "This is why we are traveling like this."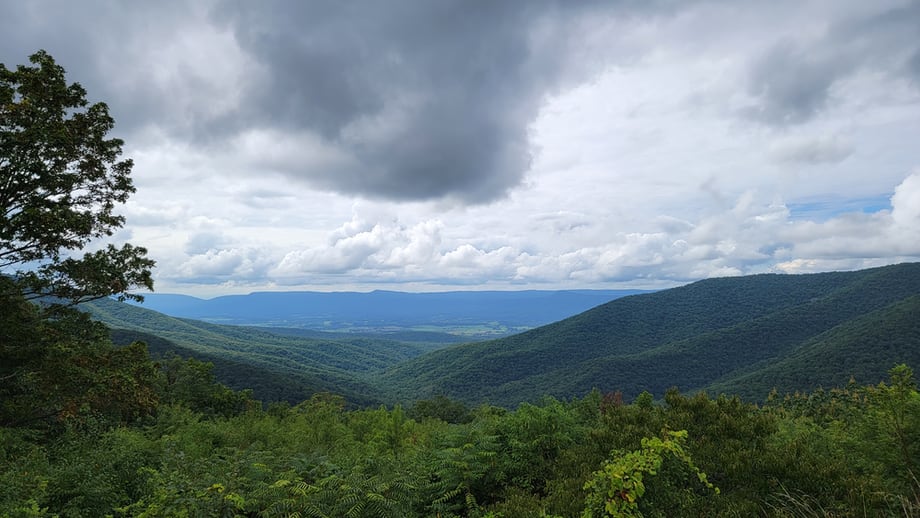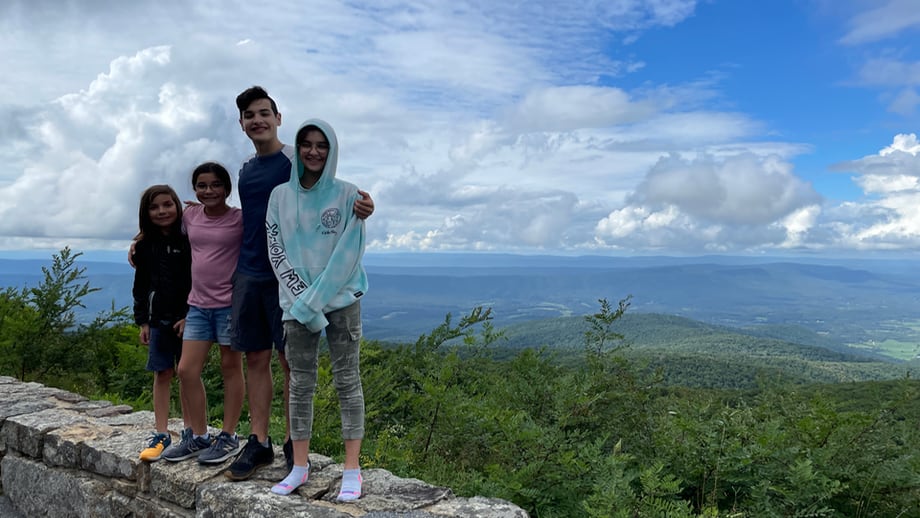 Along the drive, we stopped at the National Park visitor center to pick up the kids' junior ranger packets. We also spent about 15 minutes talking to one of the park rangers. We talked about the park, but also about him and his career. He shared with our kids how he became a ranger and what other parks he had worked at. He talked about what his goals were and what he loved about being a park ranger. It was great! This has become a favorite thing to do at national parks - just talk to the park rangers about themselves. It's so fun. They all have such interesting stories.
Hiking
The next day was hiking day. There are over 500 miles of trails in the park, of which 101 miles are part of the famous Appalachian Trail. After researching our options, we picked three different trails with different features. One that is in the woods and out to a scenic overlook, one that is down to a waterfall, and one that is a rock scramble to a 360-degree view of the valley. They are each about 1.5 miles (ish), so we figured that would be a good day of hiking with a lunch break in the middle.
First up was Stony Man Trail. This was a beautiful trail through the forest. It felt a little like a fairy garden with moss and leaf litter and mushrooms and fallen branches. This trail would be perfect for younger kids as it is not steep and there is so much to explore. Our kids were enthralled by the mushrooms of all varieties we found along the way. Once we made it to the overlook, we were in the clouds! It was so cool! This was such a fun way to start the morning. Bonus: Part of this trail is on the Appalachian Trail. We can say that we have hiked on the Appalachian Trail, now.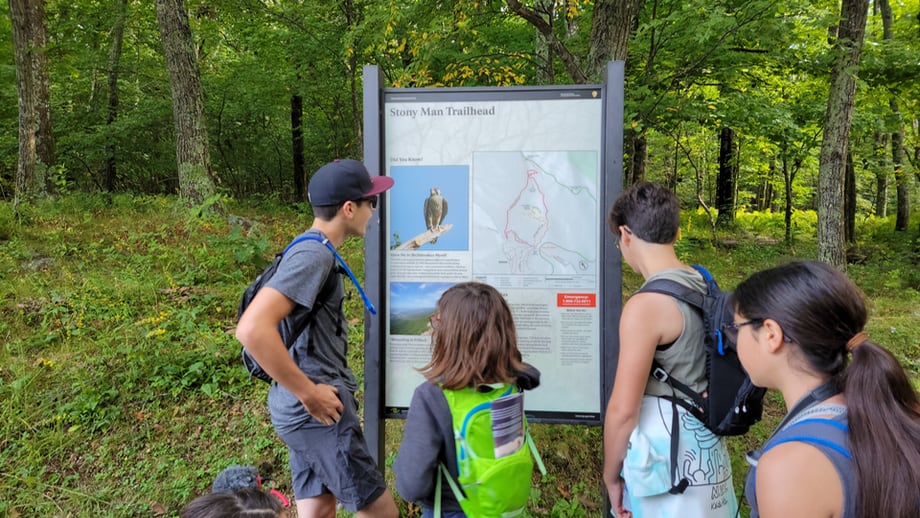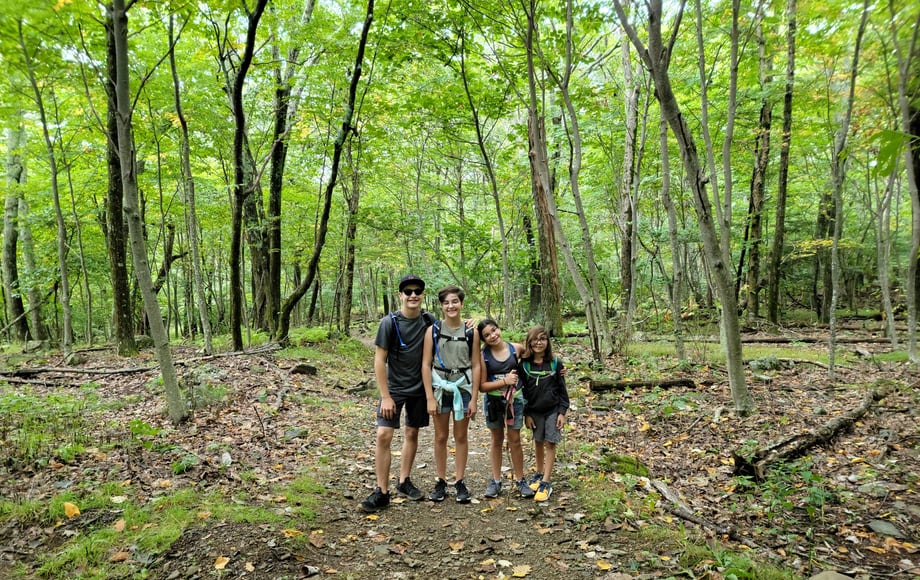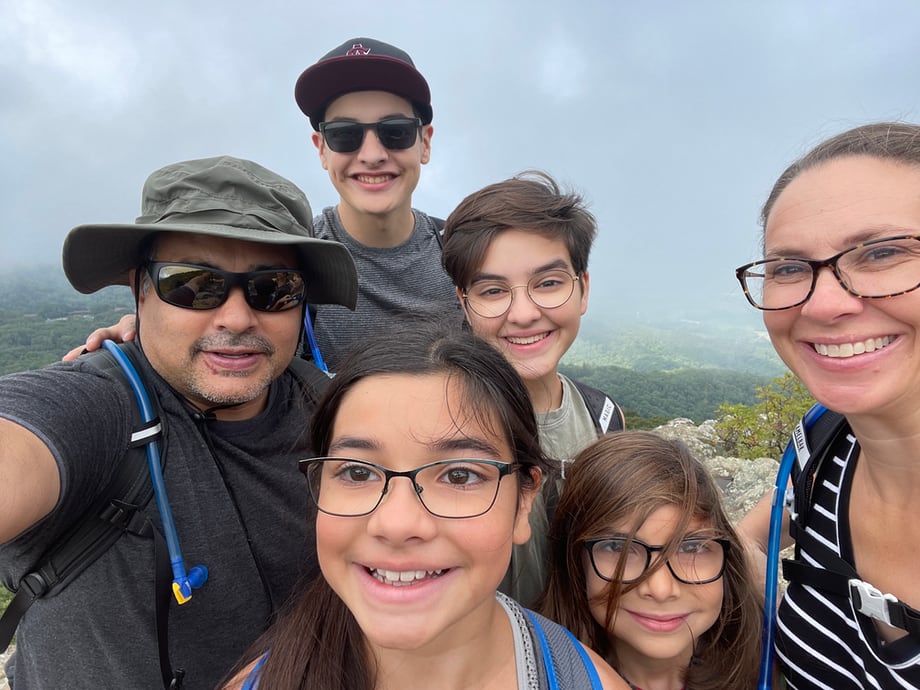 Next up was Dark Hollow Falls Trail. We knew this was a really popular trail and parking would be crowded. Luckily, we were able to snag a parking spot as someone was pulling out, but it was pretty full. I would imagine that in mid-summer it would be best to get to this trail first thing in the morning. This trail is downhill the whole way. When you reach the bottom, you find a really pretty waterfall. There are a few little areas where you can take off your shoes and wade in just a bit. It was especially beautiful because the trees mostly create a canopy overhead, just allowing dappled light to reach the water. What goes down must go up (or something like that). Everyone was getting a little hungry for lunch at that point, so the hike back up was not quite as fun as the hike down.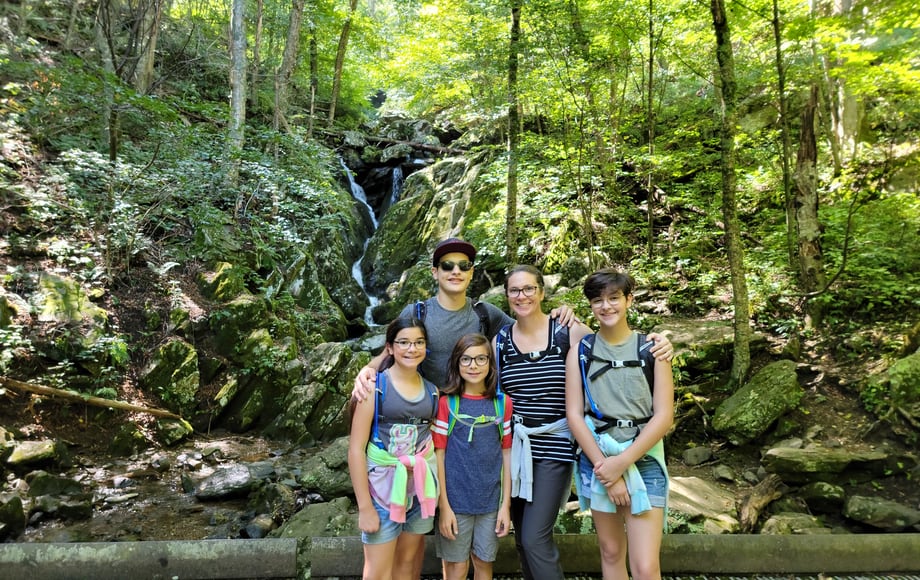 Before heading out for our third hike, we stopped at the second visitor center for a bathroom break and found a nice grassy spot under a tree to have a picnic lunch. After everyone felt rested and was well-fed, we headed out for the third hike of the day.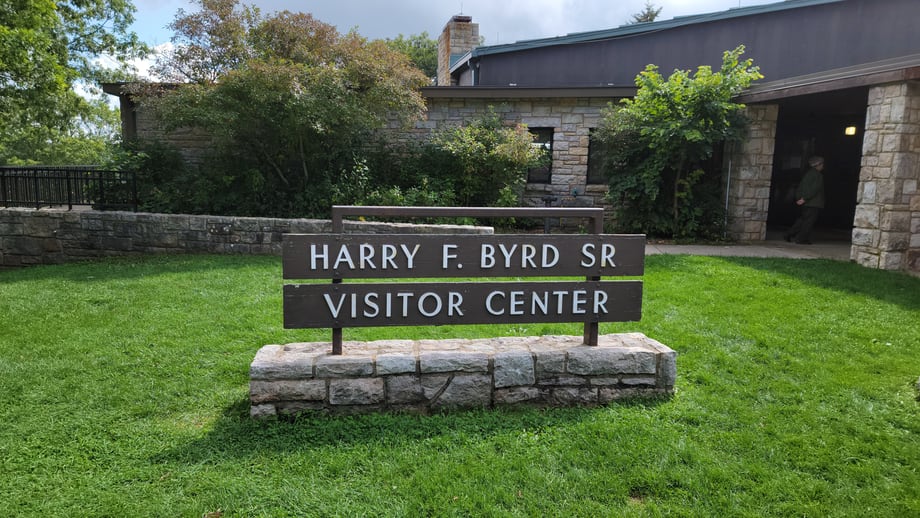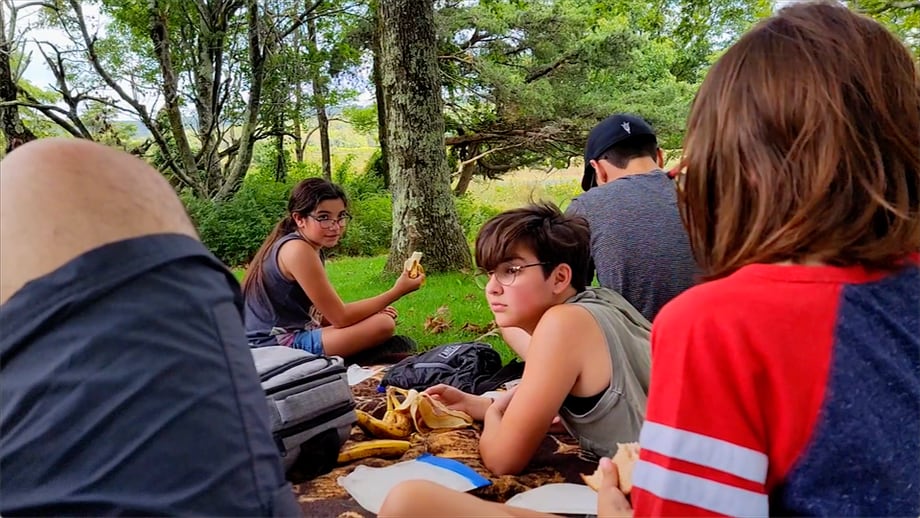 Last but not least was the kids' favorite hike of the day, Bearfence Rock Scramble. This trail is full of climbing hand and foot over rocks, as the name implies. It really is super fun. However, there are some sections where those rocks are on the edges of the mountain without much to catch a fall below. My "mama is scared of cliffs" heart really struggled on this one. We made sure we had a strong leader in front and stayed close to our smaller ones. We couldn't even take pictures or video on these parts as our hands were busy either climbing the rocks or holding hands with kids. When we got to the top, however, we all were thrilled to see the full 360° view of the valley. It was amazing!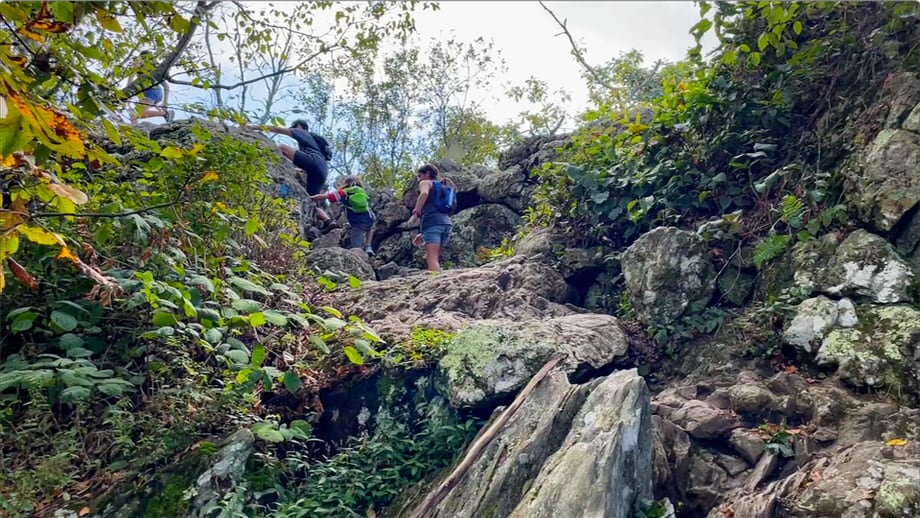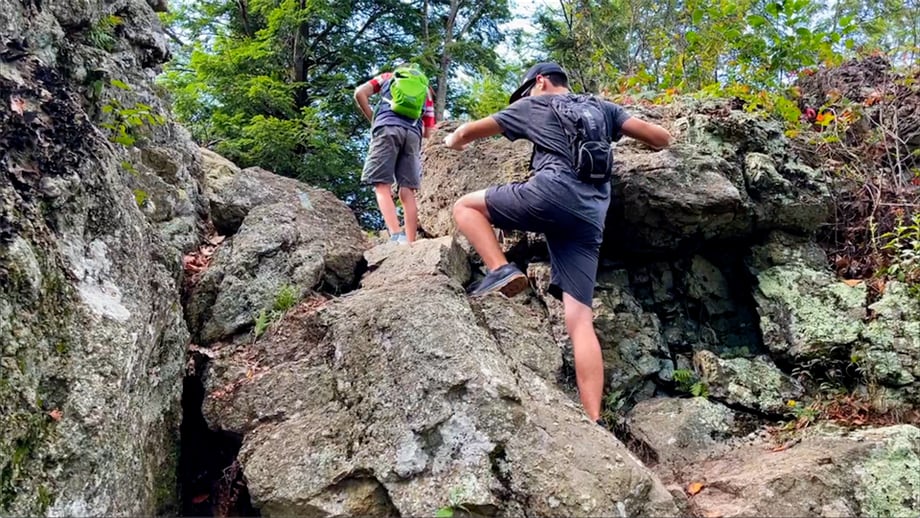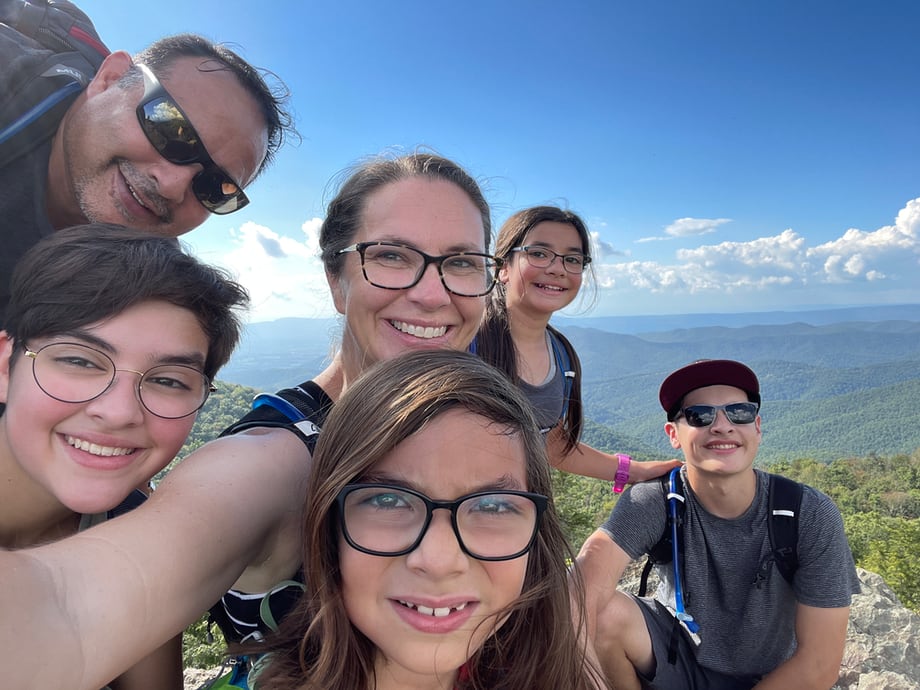 We had an amazing day hiking in Shenandoah National Park. There are so many trails to choose from. We will definitely be back.
Rafting on the Shenandoah River
After a day of rest, we decided to try rafting. There are several different companies that offer rafting, tubing, and kayaking on the Shenandoah River. We chose Shenandoah River Outfitters. Once we arrived at their location, we watched a safety and informational video and got life vests and oars. Then, we loaded up in their van and they took us to the launch point. They prepared our raft, and we loaded up and pushed off.
We spent the day quietly meandering down the river, enjoying the trees and rocks lining the water. We only saw a couple of other people the whole morning. We did, however, see turtles, herons, and even a small water snake. There was a small section of little rapids which was really fun - we didn't fall over, so we counted that as a win for a family of first-time rafters. After about three hours, we made it to the pick-up point, so we rowed our way over to the shore and pulled ourselves out. It was such a great morning, and we definitely recommend spending some time on the river if you are visiting the area.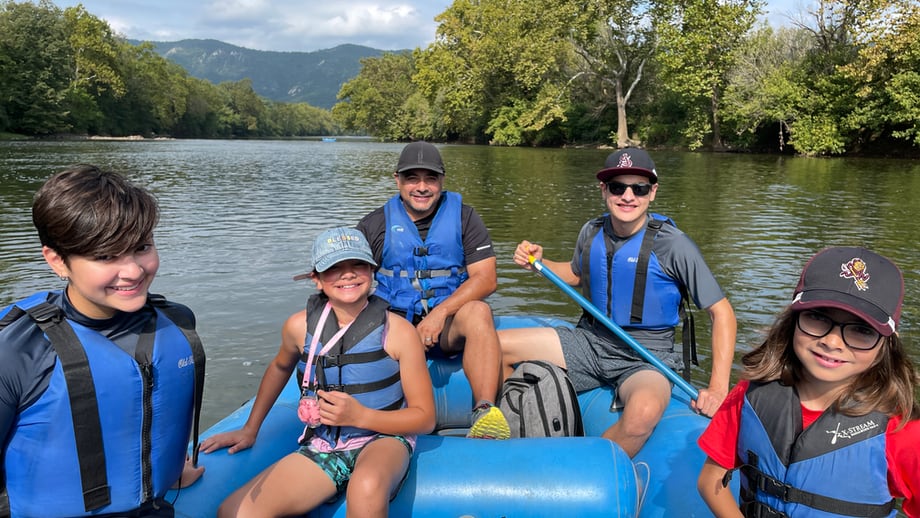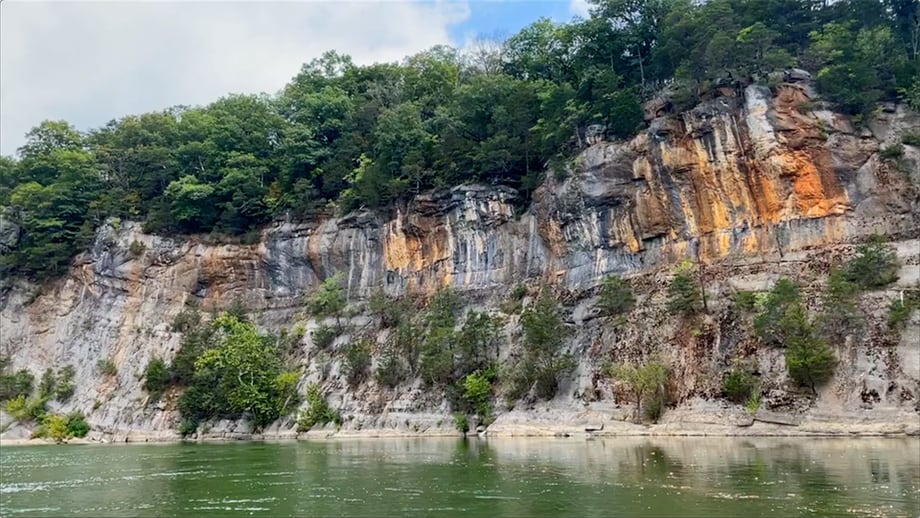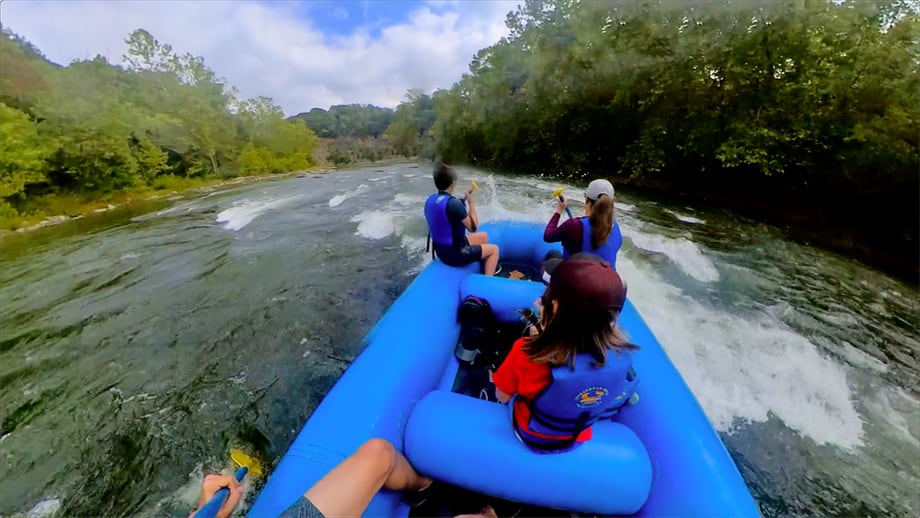 Final Thoughts
Overall, we loved our time in Shenandoah National Park and the surrounding area, including Luray. I am positive we will be back there someday to explore even more.
Watch the video:
Click here If you cannot see the video.
Where We Stayed
Jellystone Park Luray
Activities
Shenandoah National Park
https://www.nps.gov/shen/index.htm
Skyline Drive
https://www.nps.gov/shen/planyourvisit/driving-skyline-drive.htm
Stony Man Trail
https://www.nps.gov/thingstodo/stony-man.htm
Dark Hollow Falls Trail
https://www.nps.gov/thingstodo/dark-hollow-falls.htm
Bearfence Rock Scramble
https://www.nps.gov/thingstodo/bearfence-rock-scramble.htm
Shenandoah River Outfitters