When we first started dreaming up the plan to have two layers of solar panels with the lower layer sliding out, we knew that the biggest challenge would be automating the sliding mechanism. There is no way we want to be climbing up on top of the bus all the time to slide them manually. Also, there may be times where we are in hurry to slide them back in, like when a storm is coming. We had to figure out the best way to make the panels slide in and out with the push of a button.
Like with every other project, Juan spent many, many hours over months researching the best way to accomplish this goal. In the end, we decided to use a linear actuator. The only problem was finding one in the size we needed that was in our budget. Our solar panels are 41.5" wide, but we really wanted them to slide a minimum of 45". Sliding out a little farther will create a gap between the lower layer and the upper layer, preventing shading from the uppers onto the lowers at full extension. We ended up finding an actuator that extends 47". Perfect!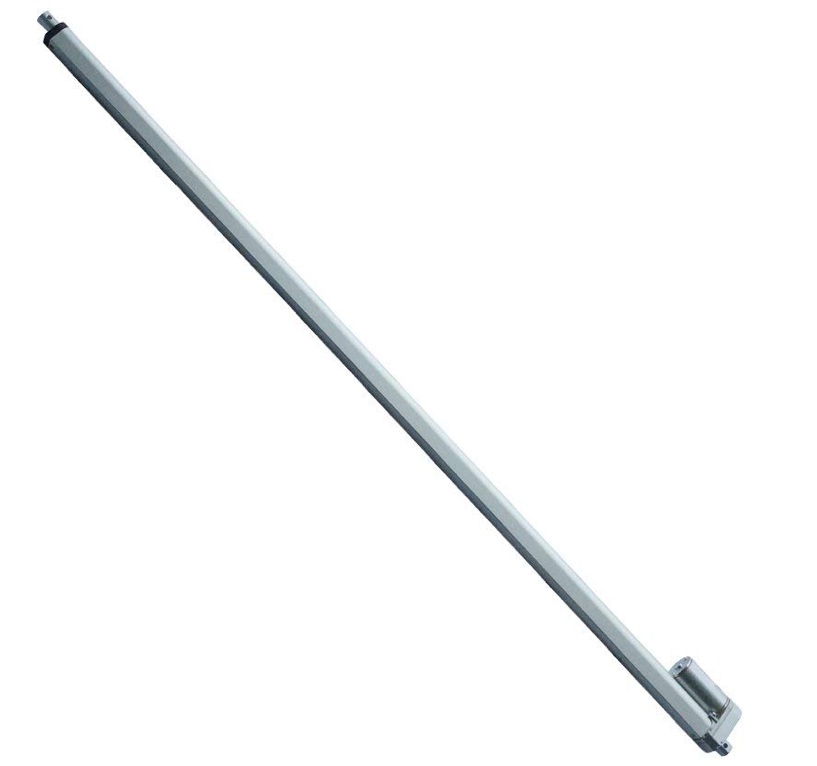 There are two challenges with this actuator, however. First, the cost. It is $200. Yikes, if we have to buy four of these (one for each of the lower panels), that will break our budget. Luckily, this actuator is rated to push/pull nearly 200 lbs. The panels weigh 56 lbs. each. Could we get one actuator to push two panels at a time? That would mean we could buy only two actuators instead of four. The second challenge is that this actuator runs on 24V. Our battery is 48V. So, we should be able to use a 48V-24V converter. For now, while we are testing in the garage, we tried powering the actuator with a cordless drill battery.
Okay, the time had come to see if we could actually make this actuator work they way we wanted it to. Check out the video to see how it all worked out.
Watch the video:
Click here If you cannot see the video.
Parts We Used